Infos
Date :
1 – 2 – 3 décembre 2016
Titre :
Politiques du musical hollywoodien
Labex Arts H2H
Atelier scientifique international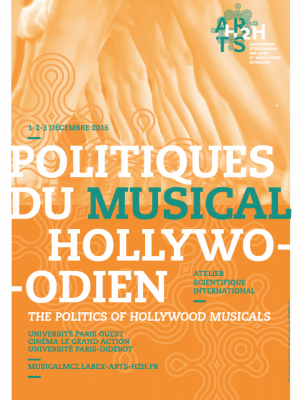 Politiques du musical hollywoodien
The politics of hollywood musicals
L'atelier vise à étudier les enjeux idéologiques propres au film musical, emblème par excellence de la culture de masse à Hollywood. Nous envisagerons en particulier les enjeux ethniques, par exemple la façon dont le film musical emprunte aux cultures noires tout en les transformant. Ou la façon plus générale dont fonctionnent les exotismes du genre, apparemment réduits à une simple vocation de distraction. En outre, le film musical est un objet particulièrement négligé dans l'histoire de l'autocensure, orchestrée par le Code de production hollywoodien. En effet, ces films sont rarement cités comme exemples d'entorses ou de négociations difficiles entre les producteurs et l'administration du Code et nous examinerons la place à part de ce genre.
___
This workshop will tackle the ideological questions at stake with the musical genre, the epitome of mass culture in Hollywood. We will particularly focus on racial issues, and the way musicals borrowed from black culture and partly erased those sources. We'll question the function of exoticisms beyond mere entertainment. A part of this workshop will be based on the study of the Production Code Administration files of chosen musicals to explain the specific status of this genre among all Hollywood productions.
4e atelier du projet Musical MC² : le film Musical hollywoodien en Contexte Médiatique et Culturel (2015-2017).
Direction scientifique et organisation : Marguerite Chabrol et Aurélie Ledoux avec l'aide de Pierre-Olivier Toulza
Interprétariat : Charlène Nowack et Melody Das Neves
Merci à Victor Bournerias du Cinéma Le Grand Action, Fabien Boully, Anne Crémieux.
MUSICALMC2.LABEX-ARTS-H2H.FR
Partenaires :
Université Paris Ouest
Equipe HAR
UFR PHILLIA
Université Paris 8
Equipe ESTCA
Université Paris Lumières
Université Paris-Diderot
Equipe CERILAC
___
Cet événement bénéficie d'une aide de l'ANR au titre du programme Investissements d'avenir (ANR-10-LABX-80-01).