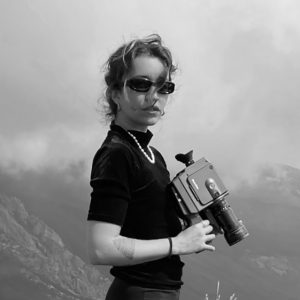 Paula Rodríguez Polanco
Doctorante contractuelle EDESTA
Paula Rodríguez Polanco est une réalisatrice, chercheuse et programmatrice colombienne. Elle a fait des études de philosophie, d'histoire de l'art et de cinéma à Paris, où elle vit depuis dix ans. Elle a réalisé les courts métrages Camposanto en 2019 (Festival Tous Courts) et Heliconia en 2020 (FID Marseille, IndieLisboa, Jihlava, Mar del Plata IFF, Documenta Madrid, Beldocs…).
Ses films sont étroitement liés à son travail de recherche, où elle interroge la matérialité du de l'argentique dans les pratiques artistiques contemporaines et la relation de l'image avec l'histoire et la mémoire individuelle et collective. Elle prépare actuellement une thèse de recherche et création sur les pratiques Super 8 et 16 mm dans le cinéma contemporain (dir. Eugénie Zvonkine et Damien Marguet) et son premier long métrage de fiction ``Look at this mountain: once it was fire`` produit par mutokino (Colombie) et L'Heure d'été (France).
Activités scientifiques
Communications & publications
Ejla Kovačević, « Powerful female voices breaking the silence », Ultradogme, août 2020. Belén Paladino, « El lenguaje de las flores », Revista Caligari, novembre 2020.

Barnabé Sauvage, Olivier Cheval, Occitane Lacurie, « FID 2020 » Débordements, août 2020. Claire Lassolle, « Heliconia, entretien » FIDMarseille journal, juillet 2020.

Carola Spadoni, « Immagini e idee per ridefinire lo stare insieme », Il Manifesto, juillet 2020.

Bíbata Uribe, « Tropicalismes, entretien avec Paula Rodríguez Polanco » 8e Panorama du cinéma colombien à Paris, octobre 2020.

Santiago González Cragnolino, « Entrevista con Paula Rodríguez Polanco », Mar del Plata international film festival journal, novembre 2020.
Communication « Présences fantomatiques et narrations alternatives de l'histoire officielle colombienne » dans le cadre du colloque « Zone de Rupture – Cinéma expérimental et écriture de l'histoire » – Université de Picardie Jules Verne – Université Paris 1 Panthéon-Sorbonne, 5 avril 2022.
Masterclass « The Subversion of Images : plastic and narrative experimentations in contemporary cinema» – Festival Cinemancia, Medellín, Colombia, 2021.
Table ronde « Pratiques argentiques contemporaines » (La Fémis, Paris), 2021.
Table ronde « Où vivent les œuvres ? » (ENS, Paris), 2021.
Look at this mountain: once it was fire (work in progress – développement) L'Heure d'été (France), mutokino (Colombie), long-métrage. Fonds : CNAP Image mouvement – Développement.
Heliconia, GREC, 26 min, 2020. Distribution : Agence du court-métrage / mutokino. Festivals : FIDMarseille (Mention spéciale du Grand Prix Premier), IndieLisboa, Mar del Plata IFF (Mention spéciale de la compétition Estados Alterados), Jihlava IFF, Documenta Madrid, FICValdivia, Zinebi IFF, Amiens FIFAM, Beldocs, FICCALI (Mention spéciale de la compétition nationale), Festival Cámara Lúcida, Las Palmas IFF, Dresden Filmfest, Panorama du cinéma Colombien à Paris, Lima Alterna IFF (Meilleur court-métrage de la compétition internationale), Festival Laberinto (Meilleur rôle principal), Shorts Mexico, Festival Obskura, Cinemancia Festival, MUDECC, Cinema Attic UK, Festival Les Monteurs s'affichent, Dhaka IFF, Panorama of the European Film in Cairo, Festival internacional de cine de la isla de Chiloé, Daimon Muestra de Cine, Leiden Shorts
Camposanto, 9 min, 2019. Festival Tous Courts 2019 – « Objets Singuliers »
argentique

Super8, 16mm

écologie

archéologie des médias

cinéma contemporain

Amérique latine

syncrétisme

vernaculaire

pratiques populaires