Infos
Date :
18 et 19 octobre 2022
Titre :
Par-delà les premiers temps
Projection au Musée du quai Branly
Atelier à l'Université Paris Nanterre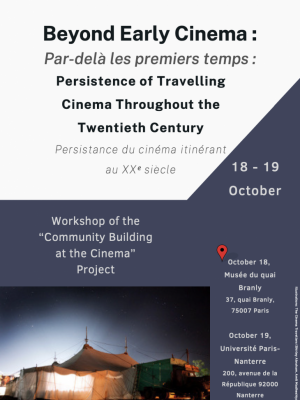 Par-delà les premiers temps : persistance du cinéma itinérant au XXe siècle
Atelier dans le cadre du projet « Faire communauté(s) face à l'écran »
Cet atelier entend explorer les pratiques du cinéma itinérant à l'échelle globale dans leur diversité historique, matérielle et culturelle et examiner la manière dont elles interfèrent avec les identités communautaires des publics. Comment les communautés — entendues comme des ensembles linguistiques, ethniques, religieux non figés, traversés par différentes dynamiques sociales et culturelles — ont-elles structuré les publics du cinéma itinérant et, inversement, comment les lieux de projection itinérante ont-ils créé, renforcé ou perturbé les identités communautaires ? Jusqu'à présent, l'historiographie s'est surtout concentrée sur l'histoire du cinéma itinérant et de ses entrepreneurs en Europe occidentale avant la Première Guerre mondiale. Nous voudrions avec cet atelier aller au-delà de cet espace-temps bien étudié pour découvrir le large éventail des pratiques de cinéma ambulant dans des contextes historiques et géographiques moins travaillés.
Organisé par Morgan Corriou, Caroline Damiens, Mélisande Leventopoulos
Avec la collaboration de Nolwenn Briand (University of Reims Champagne-Ardenne)
Projet financé par la ComUE UPL dans le cadre de son appel à projets 2022.
Ce travail a bénéficié d'une aide de l'Etat gérée par l'Agence nationale de la recherche au titre du programme d'Investissements d'avenir portant la référence ANR-17-EURE-0008.
Détail du programme
18 et 19 octobre 2022
Salle de cinéma du Musée du Quai Branly 
17:00 Projection de « The Cinema Travellers » (Shirley Abraham & Amit Madheshiya, India, 2016, 96 min) Entrée libre, dans la limite des places disponibles.
 
Université Paris-Nanterre, Bâtiment Weber, salle 2
9:30 Welcoming coffee Café, Accueil
9:45 Introduction by Morgan Corriou (Paris 8), Caroline Damiens (Paris Nanterre), Mélisande Leventopoulos (Paris 8)
— Judith Thissen (Utrecht University): "Towards a Typology of Travelling Cinema"
10:45 Coffee Break Pause
11:00 Travelling cinema experiences in socialist spaces
— Thomas Lahusen (University of Toronto): "From Moscow to Local Community: Soviet Travelling Cinema in Riazan and Kyrgyzstan"
— Ningsi Song (Université Aix-Marseille): "Travelling Cinema Practices in Rural China during the Cultural Revolution (1970-1976)"
— Jonathan Larcher (Université Paris-Nanterre): "Distant Echoes. Memories of Travelling Projections in Socialist Romania (1980-1990)"
12:30 Lunch Déjeuner
14:30 Institutions of travelling cinema after the Second World War
— Ian Goode (University of Glasgow): "Mobile Cinema and Cinema-Going in the Post-War Highlands and Islands of Scotland"
— Katerina Loukopoulou (Middlesex University London): "The Viewing Dispositifs of the Marshall Plan: the Case of a Showboat's Travelling Cinema"
15:30 Coffee Break Pause
16:00 Interpreting audiences of travelling cinema
— Asa Jernudd (Örebro University): "Elite, Urban and Simpleminded Rural Cinema Cultures in 1960s Sweden: Challenging a Historical Stereotype with a Case Study of the Travelling Cinema Skandia Bio"
— Vincent Bouchard (Indiana University Bloomington): "Film Propaganda and Audience Reception in Colonial Algeria: The SDC"
— Paul S. Moore (Toronto Metropolitan University): "Small-Gauge in the Great White North: A Critique of Canadian Government Data on Itinerant 16mm Exhibitors, 1938- 1976"
17:30 Concluding Remarks
— Arthur Asseraf (University of Cambridge, visiting professor for the project "Community Building at the Cinema")
Entrée libre dans la limite des places disponibles.
Musée du quai Branly
37, quai Branly 75007 Paris
Métro : Alma-Marceau, Iéna (9), Ecole Militaire (8), Bir Hakeim (6), Pont de l'Alma, Champ de Mars-Tour Eiffel (RER C)
Université Paris Nanterre
200, avenue de la République 92000 Nanterre
Train: Nanterre Université (RER A, ligne L depuis Saint -Lazare)
Cliquer ici pour télécharger le programme de l'atelier en pdf.