Infos
Date :
29 & 30 nov. 2018 et le 2 déc. 2018
Titre :
Philippe Garrel, le temps incorporé
Colloque international
Paris 8 & Paris Nanterre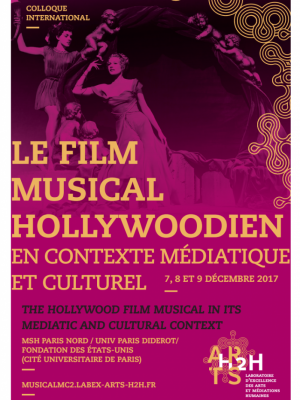 Le film musical hollywoodien en contexte médiatique et culturel
The hollywood film musical in its mediatic and cultural context
Ce colloque de clôture dressera le bilan des travaux menés dans le cadre du programme de trois ans « Musical MC² – le film musical hollywoodien en contexte médiatique et culturel ». L'accent sera mis sur la présentation de l'outil numérique développé dans le cadre de ce projet : la conception, le fonctionnement et les usages possibles de la base de données « Musical MC² ».
Le colloque approfondira aussi les enjeux idéologiques propres au film musical, emblème par excellence de la culture de masse à Hollywood. Nous envisagerons en particulier les questions identitaires, et notamment la façon dont le film musical croise les questions de genre, d'ethnicité et de sexualité. Il s'agira également de revenir sur la place du genre dans l'histoire de l'autocensure à Hollywood, et d'interroger l'articulation entre performance dansée ou chantée, technologie et idéologie.
This conference aims at assessing the work undertaken during the three years of the MC² program, "The Musical Film in its Mediatic and Cultural Context." We will put emphasis on the presentation of the digital tool that was developed by MC², focusing on the conception and the possible uses of the database on the Hollywood film musical.
The conference will also tackle the ideological questions at stake with the musical genre, the epitome of mass culture in Hollywood. We will particularly focus on identity topics, and the way musicals deal with gender, ethnicity, sexuality and racial issues. A part of the conference will be based on the study of the Production Code Administration files of chosen musicals to explain the specific status of this genre among all Hollywood productions.
___
DIRECTION SCIENTIFIQUE ET ORGANISATION :
Marguerite Chabrol et Pierre-Olivier Toulza
Colloque de clôture du projet Musical MC² : le film Musical hollywoodien en Contexte
Médiatique et Culturel, 2015-2017.
Site : http://musicalmc2.labex-arts-h2h.fr
INTERPRÉTARIAT
Gabrielle Martinez et Nicolas Vinarnick
PARTENARIATS
Equipe ESTCA (Université Paris 8)
Université Paris Lumières
Equipe CERILAC (Université Paris Diderot)
Equipe HAR (Université Paris Nanterre)
Fondation des Etats-Unis
Merci à Mehdi Bourgeois, Pauline Cellard, Gaétan Darquié, Céline de Dianous, Ana Wolf
pour leur travail et leur soutien tout au long du projet.
Cet événement bénéficie d'une aide de l'ANR au titre du programme Investissements
d'avenir (ANR-10-LABX-80-01)