Quand :
21 avril 2022 @ 18 h 00 min – 20 h 00 min
2022-04-21T18:00:00+02:00
2022-04-21T20:00:00+02:00
Où :
INHA
2 Rue Vivienne
75002 Paris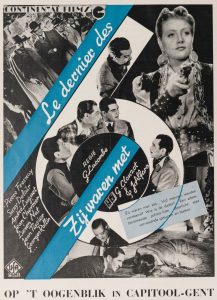 SÉMINAIRE HISTOIRE CULTURELLE DU CINÉMA
Occupied Cinemas: Writing a Cultural and Social History of Film Production, Distribution, Exhibition and Reception in German-occupied Belgium (1940-1944)
par Roel Vande Winkel
Roel Vande Winkel is writing a book about the Belgian film industry during the German occupation (1940-1944). The book aims to deliver a cultural and social history of film production, distribution, exhibition and reception in German-occupied Belgium. In this lecture he talks about his multimethod research and presents preliminary research results. He discusses the advantages and the limitations of working with (1) archives and publications that were created by the occupier and collaborationists, (2) archival materials created or collected by the Belgian judiciary, after the liberation, (3) oral history interviews, (4) databases about film exhibition in 1940-1944, (5) a research website designed to share results with the general public.
Roel Vande Winkel is Associate Professor at KU Leuven and at LUCA School of Arts. Roel Vande Winkel. His publications include 'Cinema and the Swastika: The International Expansion of Third Reich Cinema' (with David Welch, 2007, rev. 2011), 'Silencing Cinema: Film Censorship around the World' (with Daniel Biltereyst, 2013) and 'Film Professionals in Nazi-Occupied Europe' (with Pavel Skopal, in 2021). He disseminates the results of his ongoing research on the website https://www.cinema-en-belgique-occupee.be/ He is also conducting research on Alfred Greven (1897-1973), the leader of Continental Films (1940-1944) in Paris.
Séance dans le cadre du séminaire Histoire culturelle du cinéma.