Quand :
14 février 2020 @ 11 h 00 min – 14 h 00 min
2020-02-14T11:00:00+01:00
2020-02-14T14:00:00+01:00
Où :
Institut national d'histoire de l'art, Salle Vassari
2 Rue Vivienne
75002 Paris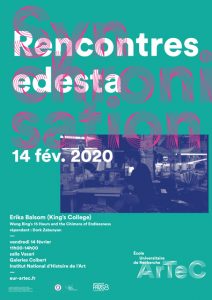 Les Rencontres Edesta Synchronisation
Séminaire animé par Paul-Louis Rinuy (AIAC) et Christa Blümlinger (ESTCA), proposé avec le soutien de l'EUR ArTec et du Collège des Ecoles Doctorales de l'Université Paris 8
Erika Balsom (King's College, London) : 
« Wang Bing's 15 Hours and the Chimera of Endlessness »

Répondant : Dork Zabunyan (ESTCA)

Longtemps, le documentaire d'observation a souffert, auprès des commissaires d'exposition de l'art contemporain, d'un statut de mauvais objet, trop éloigné d'une certaine artificialité requise. Cette conférence s'intéressera à sa revalorisation récente, notamment dans le cadre de la Documenta 11 de 2002, dirigée par Okwui Enwezor. Reconnaissant qu'il ne s'agit pas d'une simple « copie » du monde, plusieurs artistes ont désormais choisi cette stratégie. La conférence explorera ce paradoxe apparent à partir d'une discussion portant sur l'œuvre du cinéaste et artiste chinois Wang Bing, 15 Hours (2017), qui documente une journée de travail dans un atelier textile chinois. L'installation se situe à l'intersection entre des discours sur le cinéma numérique et le tournant documentaire dans l'art, dans la mesure où l'œuvre réaffirme la primauté de la saisie optique en même temps que les possibilités singulières d'un mode d'enregistrement de longue durée, propre à la vidéo numérique. (Conférence en anglais)

Erika Balsom est professeure (Senior Lecturer) en études de cinéma au King's College à Londres. Elle est l'auteur de After Uniqueness : A History of Film and Video Art in Circulation (2017) et de Exhibiting Cinema in Contemporary Art (2013), et a co-dirigé, entre autres, Artists' Moving Image in Britain since 1989 (2019) et Documentary Across Disciplines (2016). Elle a publié dans des revues académiques comme Grey Room et Cinema Journal et contribue régulièrement à des magazines critiques comme Artforum, frieze, et Sight & Sound.