Déc
7
jeu
2017
Le film musical hollywoodien / The hollywood musical

@ Maison des Sciences de l'Homme, Amphithéâtre
Déc 7 @ 9 h 30 min – 17 h 45 min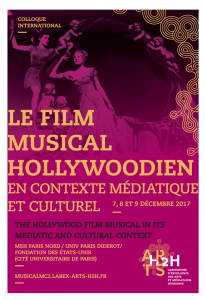 Le film musical hollywoodien en contexte médiatique et culturel / The hollywood film musical in its mediatic and cultural context

Ce colloque de clôture dressera le bilan des travaux menés dans le cadre du programme de trois ans « Musical MC² – le film musical hollywoodien en
contexte médiatique et culturel ». L'accent sera mis sur la présentation de l'outil numérique développé dans le cadre de ce projet : la conception, le fonctionnement et les usages possibles de la base de données « Musical MC² ».
This conference aims at assessing the work undertaken during the three years of the MC² program, "The Musical Film in its Mediatic and Cultural Context." We will put emphasis on the presentation of the digital tool that was developed by MC², focusing on the conception and the possible uses of the database on the Hollywood film musical.
Direction scientifique et organisation :
Marguerite Chabrol et Pierre-Olivier Toulza